Ugh, another "holiday"?? Who has the time? Not me.
I did actually think about playing a couple of pranks on the kids, but really did run out of time. I just didn't plan well enough, and to be fair, some of the jokes that I liked were just too mean. My favorite? The air horn above the door stop, so when someone opened a door, the horn went off. I about peed my pants just thinking about that one. Maybe in a few years.
I saw something unrelated to April Fool's Day, on Pinterest probably, but I decided to incorporate it into my last minute efforts of playing a joke on the kids. I saw online, somewhere, an idea for a new display on your smart phone: have your kid smash their face against a window and take a picture, then set it as the background on your phone. It should look like your kid is trapped in your phone. Funny and creepy, all at the same time. I tucked this little gem away for another time; little did I know, it would come in handy today.
After dinner, the kids were running around the backyard, and Mark was outside with them. I saw an opportunity. I called him over to the door, had him smash his face against the glass, then snapped his photo. He didn't think much of it; I guess I do take a lot of pictures. He came inside and went upstairs, and the kids stayed outside for a bit. When they came in, I showed them this: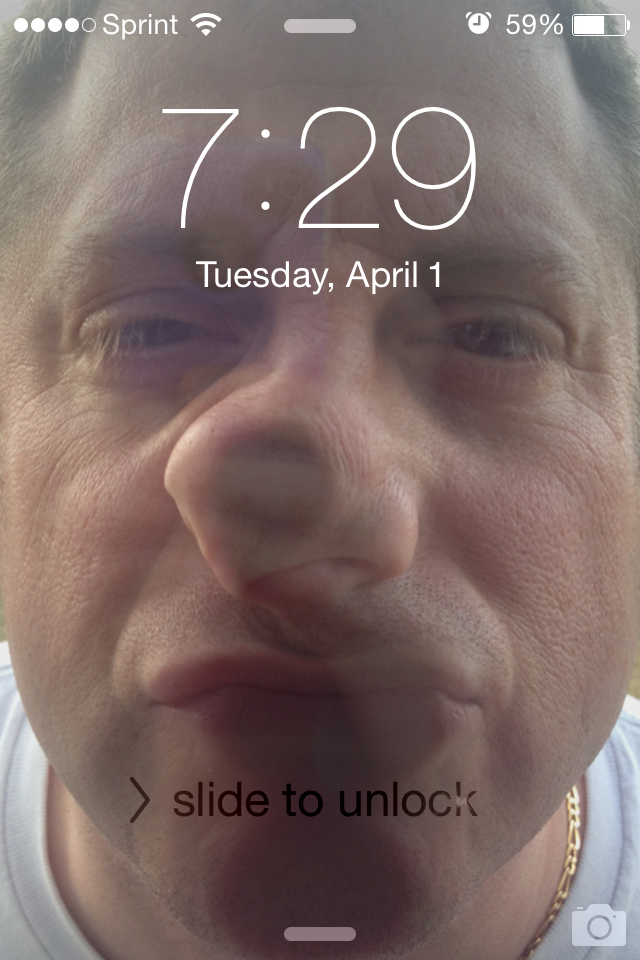 …and told them that I found a magic trick to try online, but I messed it up and ended up trapping Daddy in my phone. They thought it was hilarious. Then they ran upstairs and found Mark sitting at his desk, to catch me in my tale. Foiled again!
It really wasn't the best joke, but hopefully they appreciate the fact that I didn't let the day go by without some little prank. Hey, if nothing else, I have this gem of a picture of my hubby…that he will be oh-so-thrilled to find posted on my blog. I'm sure he will get his revenge somehow. I should probably hide his phone at night so he can't post a picture of me at night, snoring away…
Did you pull any stunts today? Do tell!