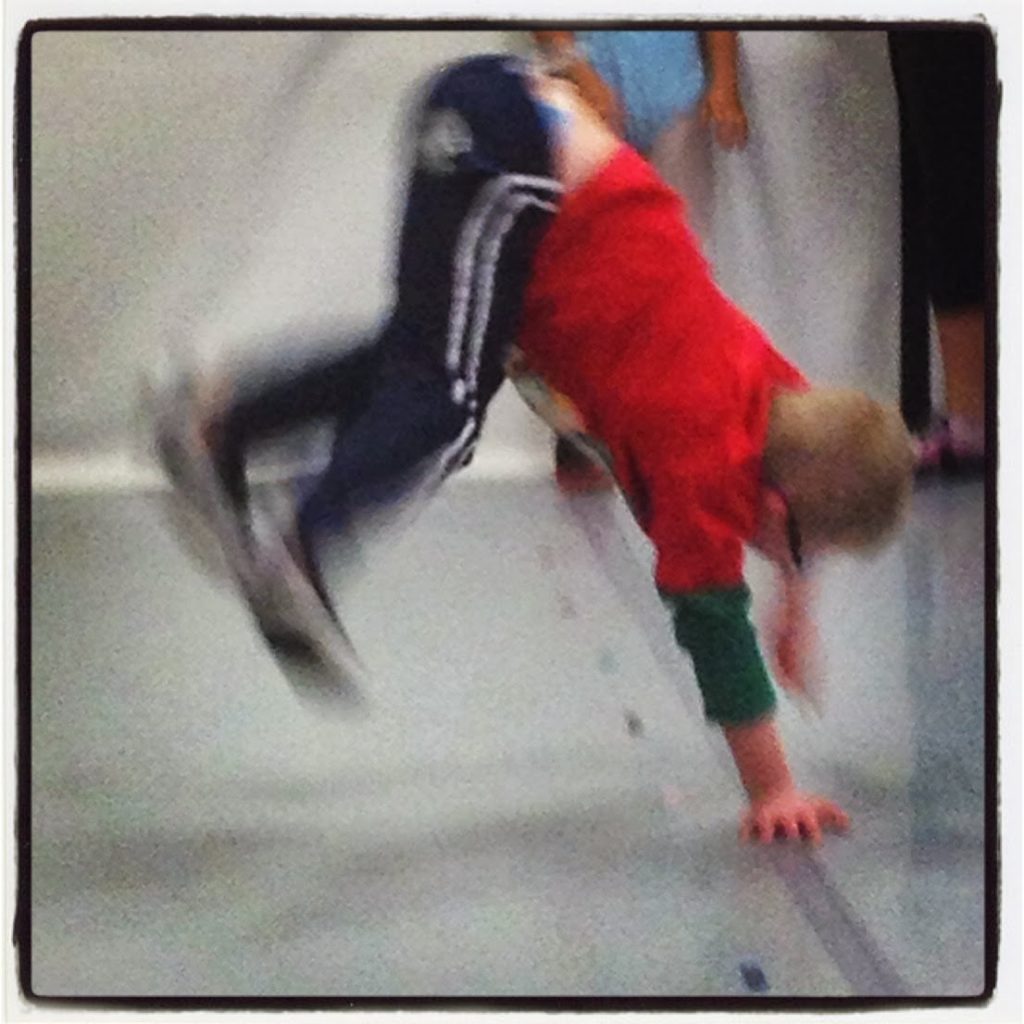 Alex, in action at dance class
As I've mentioned before, all of my children take dance classes. On Friday nights, Al gets his turn.
Last year was his first year of dance, and he eagerly asked to continue with his lessons this year. We happily obliged. Dance is so great for all kids, but for Alex, it's fantastic. He gets an extra dose of learning how to work with peers (taking turns, minding everyone's space, listening to a teacher). He also gets exercise, expends some energy, and has a ton of fun while doing it.
I'm always impressed, watching him dance. He is so into it! He may not perfectly perform every move, but he has rhythm, and you can tell that he really loves music and dancing.
What impresses me more, though, is how welcomed he is into his class. We choose to place him into a class for five and six year olds, as the class for nine year old kiddos is just too far above his skill level. Being smaller than most typically developing kids his age, he blends in with the younger kiddos quite well. The only thing that may set him apart from his classmates is the fact that he's a boy, while the other dancers are all girls (last year, there was another boy in the class, but the ratio was about the same because that class was bigger); for once, it's not his Down syndrome setting him apart from the crowd. The kids in his classes have been wonderful; they encourage him, or help keep him in line, whichever is needed at a given moment. He looks forward to seeing them each week.
Even beyond that, though, is something so simple: at the studio where my children dance, we've never had to make a case for him to be included. This is particularly striking to me, I think, because I feel like we are constantly struggling to have him included with kids his own age at school…perhaps the most obvious opportunity for inclusion. There are few places where I've expected at least some level of convincing in order for him to participate, yet was pleasantly surprised to find that it wasn't necessary, and dance class is one of those places. He's included, but that's not to say he gets any special treatment. His teachers, past and present, caught on to his stunts early on, and he doesn't get away with much in class. It is awesome. He has clear boundaries and expectations that he is expected to follow, but he is still included and enjoys every minute of it. We couldn't ask for more.
So each week, all three of my kids happily spin and jump and learn the routines that we will so joyfully watch them perform on stage in June at their annual recital. We certainly won't be the only proud parents in the crowd, but we may have an extra sparkle in our eye as we watch Alex, on stage with his dance friends, doing what he loves so much.