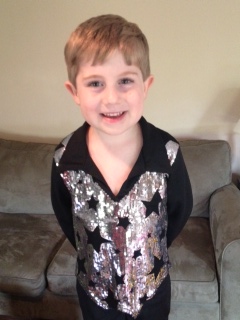 How stinking cute is he?!?
Now that we've finished the End-of-School-Year Chaos, we can move on to End-of-Dance-Season Chaos. This entails two nights of dress rehearsals and two days of performances. That's a lot of dancing, yo.
Tonight, it was Andrew's turn to strut his stuff. He is the only boy in a class of four sweet kiddos; all the girls wear fluffy pink tutus and tiaras, and he totally rocks his black and silver costume. Being that they are all around four years old, this is probably their first experience on stage (this is the case with Andrew, at least). The class took the stage, all sparkly in the splendor of their costumes, and it kind of all fell apart from there. They all seemed to forget their dance routine, but they smiled and were so cute. They are sure to steal the show on Saturday!
Of course, after an afternoon at the park followed by dance, Andrew was beat after rehearsal. He climbed out of the car, told me with a slight hint of indignation that "sparkles are for girls", and quickly dug out his Star Wars figures. Apparently, he had more than his share of the spotlight this evening.