I am heartbroken.
Before the birth of my youngest son (who is now 4 1/2), I purchased a set of Carter's security blankets. Knowing how attached my daughter was to her blankie, I thought I should plan ahead and I just marveled over how Carter's knew to put two in a package. It would be perfect: one for home, one to take with us.
And take it he did.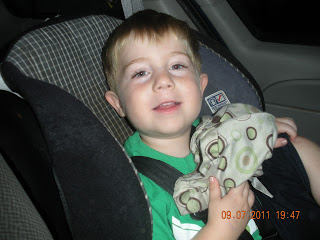 My sweet guy and one of his blankies
Those blankies (or as he called them, "kikies") went everywhere. They truly fit the job description of the security blanket. They got dirty, and my son would cry as they "went for a ride in the washer and dryer" only to rejoice when they were ready again. They got lost, and I would panic and desperately retrace my steps until they were once again tucked into his little hands. Those kikies became inanimate members of our family.
Seeing as they were more well traveled than I am, losing them for good was inevitable. Two weeks ago today, I took my oldest son to meet his summer school teachers. My youngest tagged along, insisting to bring his kikies, and of course I warned him that they would get lost if he didn't leave them at home. This little guy, he's a tricky one; until today I honestly thought that he did leave them behind. He has been insisting, though, that he left them on a bench where we waited while my oldest son completed an assessment with his teachers. The day after that meeting, I had called to ask if the kikies had been found, only because I had already ransacked the house and was just hoping that I could put my own mind at ease. I left a voice mail message, but never heard back, so I just assumed that they had been swept up in some random mess in this house. I've been hoping that they would just magically reappear, as items in our house so frequently do.
Then, for some reason, he asked me this morning if I would call again to see if we could go pick up his kikies. That's how determined he was that he left them there. He wasn't asking if I would check to see if they were there. He was asking if we could go retrieve them. I kind of dismissed his question, yet promised I would try to call them, and we went on with our morning.
We drove my oldest son to day camp (40 minutes away), and on my drive home the van was acting very strange so I took a detour to a local garage. Soon after I learned that the van would need a $500 repair, making it the third time it has been serviced in the last three weeks (nothing like putting over $1000, in three weeks' time, into a car that you hate). Oh, the drama. Fortunately, after some quick shuffling of the day's schedule, I was back home while the kids went to spend the day with my parents. (I will say that I feel stranded at home without the van. I'm not used to staying at home. We're that busy, all the time.)
I found myself with a few spare moments, so I decided to make good on my promise to call and check on the possible whereabouts of the kikies. Someone answered the phone this time, and after my rambling explanation as to why I was calling, the lady paused and said "I do remember seeing something like that…hang on, I'll check."
I had butterflies in my stomach as I imagined the look of pure bliss my son would have once he reunited with his beloved kikies.
Then, I felt like I had been kicked in the stomach when the lady came back and told me that "they were here, but now they're not. We don't know what happened to them, but they're gone."
Cue the Mommy Guilt.
I ended the call, then dissolved into a blubbering mess at my dining room table. Bawled like a baby. If I had only listened to him insisting that he left them there, if I had been more persistent and made more than the one phone call, he would still have his precious kikies.
Then I spent the better part of an hour searching for identical replacements. I succeeded in finding them, on eBay, for a mere $50 (unless I wanted a used one, for the bargain price of $20…does anyone else think that's gross? I know how dirty these things get, with the slobber, boogers, and dirt…and I only tolerated it because I knew where all that was coming from…). People actually stock up on these things, which get discontinued, and then they try to rip off poor guilt-ridden moms like me. Search "Carters Snuggle Me Green Brown Tan Cream Circles Dot Baby Security Blanket Lovey" and you'll see what I mean.
Knowing that spending $50 to perpetuate a habit he will need to break sooner than later would be ridiculous, I started thinking of other ways to soothe his little heart…or, perhaps, mine. I called my mom, who sews, and asked if she would be willing to recreate the infamous blankies. Of course she agreed, and my son will soon pick out material to have a new and improved, one of a kind kikie.
I think that the loss of kikies hit me hard because it forces me to realize that my baby boy will soon be too big to need a blankie. He already runs around, yelling like a Jedi knight or his favorite super hero (which changes daily), doing things on his own without my help. He's growing up, like it or not. Apparently, this makes me very sad.
So, it's with a heavy heart that I bid farewell to the kikies. You will be missed, you disgusting shreds of fabric. Thanks for being my little guy's very best friends for the last few years.