With less than a week left in our I Heart Garments fundraising campaign, it's time to kick our efforts into high gear! If you don't order your tshirt/hoodie by 7/21, you will not be the proud owner of this limited edition item. That would be sad, but even worse, you won't get to show your support for the awesome idea my (almost) eight year old daughter wants to share with the world.
So, to help motivate everyone to order in time, I present to you:
The Top 10 Reasons to Support #InclusionMatters:
10. This is an awesome shirt. It's super soft, way comfy, and ultra cool.
9. This video.
8. Inclusion goes well beyond the special needs community. It's important to teach our children, as well as our peers, that everyone should be loved and accepted for who they are.
7. The design! The real hand prints illustrate real people joining hands to represent inclusion, while the thumbs come together to form a heart to represent Addie's vision of sharing a message of inclusion via her foundation, Giving Hearts.
6. In a world which values potato salad fundraisers, this is a genuine fundraising campaign which is also trying to spread kindness. #InclusionMatters really should get more support than a picnic side dish, wouldn't you agree?
5. How often do your clothes make an awesome statement but also support a fantastic organization?
4. This video.
3. These super cute kids are way excited to share this campaign with you. Don't disappoint them. Share, share, share! Share this blog post, post my Facebook updates on your own page, retweet my reminders.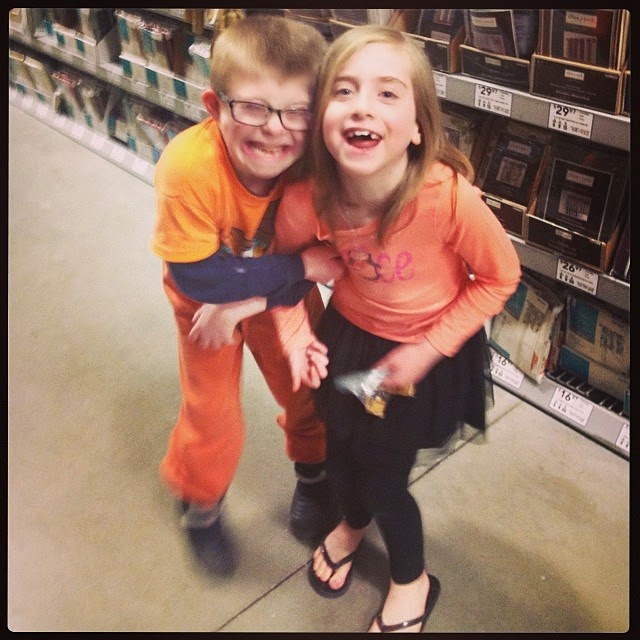 Alex and Addie crack each other up!
2. WE ONLY HAVE UNTIL MONDAY, 7/21, TO SELL THESE AMAZING SHIRTS AND SHARE THIS VERY IMPORTANT MESSAGE!!
1. A little girl with a heart of gold wants all of us to be included, all the time, no matter who we are. This is the essence of the campaign. In her own words, "please show the world that inclusion matters to you, too."
Buy the shirt
. Share our message. #InclusionMatters. It really, truly does.