Close to five months ago, I shared the story of how Addie (my lovely, almost-eight-year-old daughter) decided to start her own foundation, Giving Hearts, to teach her friends about inclusion and raise some money for the organizations which help her older brother. We hear more and more about how young people want to do amazing things to help those around them, and I was super proud to learn that Addie shares those goals.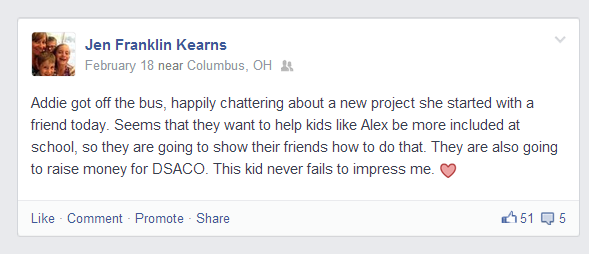 Sadly, her dreams were rather crushed, as her peers began bringing her donations and the school kind of freaked out (understandably so, although it could have been handled a bit differently), and she had to return all the donations which had been collected. Addie was devastated. She wanted so badly to help, and then felt like she got in trouble at school. She was embarrassed, yet fortunately, not discouraged.
She began brainstorming other ideas for raising money for Team Alex and the Down Syndrome Association of Central Ohio. Lemonade stand? Difficult, as we live at the end of a court so there isn't a lot of traffic. Bake sale? Um, I don't bake often or well, and there's only so much she can do with an Easy Bake Oven. She was determined to figure out a way.
Then, while at work, I was fortunate enough to learn about a local company, I Heart Garments, that provides a fun and innovative way to raise funds for organizations. I thought and thought about submitting an application, but for some reason, didn't jump on the opportunity right away (hey, I'm a busy mom!). But, after debating it, I suddenly realized that this was the perfect outlet for Addie to share her story. So, we applied.
We titled our story #InclusionMatters; this is a hashtag that I often use on Twitter. Inclusion is a hot topic around our house, as obviously we strive for Alex to be included in as many ways possible, but we also believe that inclusion goes way beyond our little realm of the globe. I believe that we are not alone in these beliefs, and because of that, #InclusionMatters was born. Addie and I drafted out the story we wanted to submit, and then we waited.
We were so thrilled that our story was selected, and now, just a few weeks later, we have this: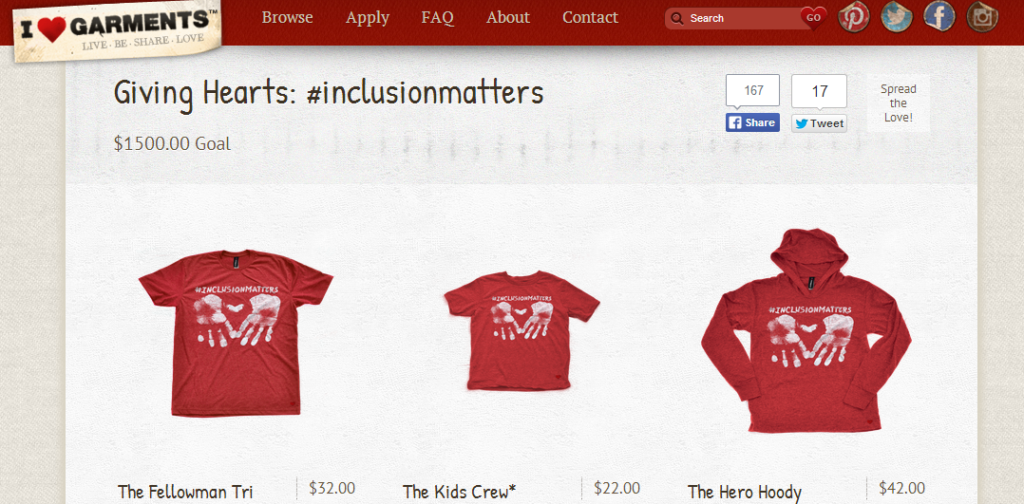 How AMAZING is this design?!? Addie and I love it; it is very meaningful to the message we want to share. Ad chose red for the shirt, as it is Alex's favorite color. The two hand prints represent inclusion, and they form a heart to incorporate Ad's original idea for Giving Hearts. Of course, our hashtag also appears on the shirt, right above the hands. Love, love, love it!
To get a better look at the design, you absolutely must check out our full story on the I Heart Garments page. There is also a fantastic video that will completely melt your heart.
To think that my young daughter has the hope of teaching others that #InclusionMatters is incredible. Inclusion benefits everyone. It goes beyond Alex and his peers with Down syndrome; it goes beyond the community of individuals with special needs. Inclusion matters, to everyone, everywhere. I strongly believe that if our world was a more inclusive place, we would all be so much happier.
In Addie's words, "please show the world that #InclusionMatters to you" too! Help us spread this message by sharing this post and supporting her mission. Thank you for helping a little girl's big dream become a reality.