This evening, I took my little Lego enthusiasts to the Lego Store for their monthly free build event. We had never done this event before, but I noticed on Facebook that they were planning to build a cute little beach vehicle. After checking our schedule and discovering that we could swing it, I offered to take Addie and Andrew.
I wish someone would have hit me over the head before we left. That would have been less painful than the experience.
The event was slated to begin at 5pm, and I was advised by someone at the store to arrive no later than 4:30pm to get in line. I wasn't worried, because we arrived by 4:20pm, and the parking garage I chose was just down the block from the Lego Store. As we approached the store, though, it was clear that we should have arrive closer to 3:30pm, as there were easily 50 people already in line. In the sun. And humidity. Ughhhh.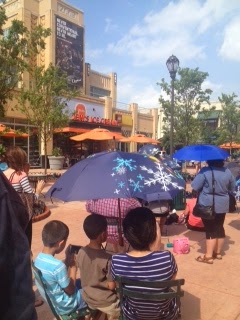 Our view from the line.
I made sure that the kids really wanted to build that particular item before we hopped into line. No more than 24 seconds into our wait, the whining started. "The sun is too bright!", "I'm hottttt", and "How much lonnnngerrrr?" were quickly met with a look, a raised eyebrow, and a "Ok, let's go!" from me.
They shaped up and we ended up waiting about an hour (did I mention how hot it was?!?), so we were very grateful when the line finally started to move and we inched our way toward the air conditioned store. About 15 more minutes after we entered the (very small) store, it was finally their turn to build.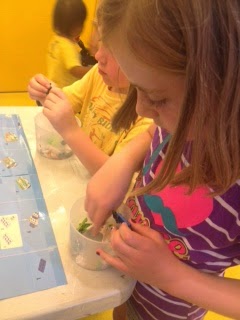 Addie building.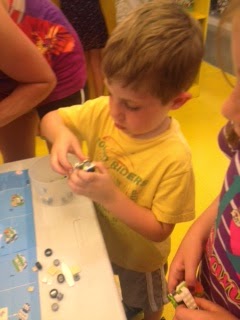 Andrew building.
As I stood there while they did their thing, I couldn't help but think that there should be entertainment for the adults while we wait. Bingo, maybe? I started keeping a list of all the things that could appear on the board:
Kids trying to cut in line
Angry dad who shows up at 5:30pm and yells at store manager because all the free kits are gone
Mom wearing obnoxious amount of perfume
Crying kid because their Legos fell on the floor
Lego Store employee who looks like they want to bang their head against the wall
Oblivious dad gazing wistfully at $400 Lego Star Wars set while their kid destroys the Lego Mini Figure display
Irritated mom who just wants a bottle of water and five minutes of peace and quiet (if you guessed that this one was me, you are correct!)
After looking over my list, I realized that I didn't have enough things to create an entire Bingo board. Maybe a drinking game would be better? You make the call.
So, anyway, after all the nonsense we endured to build the Beach Cruiser (Andrew calls it the Beach Boozer, which makes the suggested drinking game even more appropriate!), I had two happy kids and 82 new tiny little Legos. Lesson learned: next month, we'll just go buy a stinking $10 set and call it a day.